This is a story of two men who lived in Glens Falls in the late 1800's and had very different lifestyles but did share one thing in common. They were Charles Christian, a resident of Crandall Street, then called Uncas Street, and John M. Holmes, a resident of Pine Street.
Charles Christian was born in Canada around the year 1796, came to the United States and settled near Smith's Basin in Washington County where he raised swine before coming to the Glens Falls shortly after 1850. Not much is known about his early life although some thought he had been employed as a clown in traveling circuses for several years. If not for his lifestyle and that of his family's, most likely nothing more would be known about him.
His home on Crandall Street was located where St. Vincent de Paul house is now, opposite Cottage Place. This was the scene of many visits from the local police to settle family disputes, reports of intoxication and disorderly conduct of all kinds by all residents. Charles lived there with his fourth wife, at least one daughter and, apparently, a steady stream of visitors of all kinds. The newspapers of the time were quite graphic in their description of the behavior of the folks at that address.
Instead of a steady occupation, Charles would push his wheelbarrow around town collecting refuse from stores and markets and cart it home. This is what he subsisted on. His home was described at the time of his death as a story and a half tumble down structure with one room on the first floor used as a kitchen, parlor, and for sleeping. The second floor consisted of one bedroom. Scattered around the house and in a shed on the property were piles of decaying and rotting meats, fruits and vegetables gathered in his trips around town and were the source of a sickening and putrid stench that permeated the air.
Charles died on May 25, 1884, at the age of 88, of apoplexy (stroke). His wife, Mary, had died the previous week. He was survived by one daughter, Sarah, also well known to the local police, and two children, one of whom was living in Canada. His remains were interred by the Overseer of the Poor, but no burial place was given.
Our other person of interest, John M. Holmes, was born in Lowville, NY in 1841, so there is a big age difference between the two men. John's family moved around a lot when he was young and eventually settled in Fort Edward where in 1870, John married Catherine, last name unknown, who had emigrated from Ireland in 1849. They lived in Fort Edward for a short while before moving to Glens Falls. They had no children.
What makes John interesting is his various jobs and interests. The 1874 Glens Falls City Directory lists him as an elephant trainer but does not say where he was employed. In the same publication, under corrections, he is listed as a circus canvassman. His obituary says that he was employed on the road by several large circuses, including Barnum and Bailey's that had started up in 1871. By 1883, John is running a novelty manufacturing business from his home at 21 Pine Street. Later the same year, he sells the business to the Novelty Company and goes on the road as a travelling salesman for them. This did not last long, as in 1888, he is a kitchen furniture manufacturer and in 1897, he is listed as an assayer, and we'll see why shortly.
Along the way, John acquired several patents for a variety of different purposes. Among them, one for an acrobatic toy, a copy of which is in the Chapman Museum archives. Perhaps this is the one that was the basis for the novelty company. Others were for improved fiber disintegrating machinery, a lard clarifier, a clasp to hold braided hair in place, a barrel cover and a gold separator. This last one must have stemmed from another of his interests.
In May of 1896, John left Glens Falls for Los Cerillos, New Mexico with a group of thirty prospectors. Only he and one other man were to test out the gold separator which used no water and supposedly could separate gold from sand. In June, he wrote home that the tales of gold bearing sands in the southwest were probably a myth. He did not get back to Glens Falls until October as he went from New Mexico to Colorado and reported that the abundance of gold there was much exaggerated.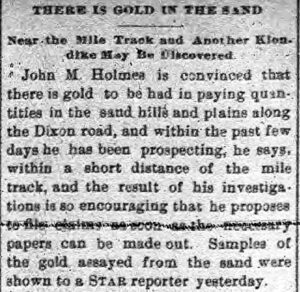 One year after returning to Glens Falls, he is listed in the city directory as an assayer. And what was he interested in? Read the article from the Glens Falls Morning Star of October 8, 1897.
He claimed that out of 150 pounds of sand he extracted 23 pennyweights of gold which is about one standard ounce, today worth about $70. He thought he would be able to get about $20 worth of gold per ton of sand. He also thought there might be enough silver in the sand to help offset the price of obtaining the gold. In 1898, he exhibited a bar of gold about the size of a domino that he said he extracted from about 64,000 pounds of sand at the Sacandaga Mining Company in Hadley, NY. The extracting cost $63. In 1904, John returned from a trip to Indian Lake and reported that there was gold bearing quartz there which could be mined if the proper equipment were at hand. I found no further stories about his search for gold.
John and Catherine went to Ireland in 1910 and he died at his home on Pine Street in 1915. Catherine died in 1925. Both are buried in Union Cemetery between Hudson Falls and Fort Edward.
So why put these two men in the same story? Here's the connection. In 1882, Mr. Holmes filed a complaint that Mr. Christian had amassed a large quantity of decaying vegetables and other rubbish on his property and it was giving off a disagreeable odor to the detriment of the health of people living in the area. He stated he had complained before, but nothing was done about it. In 1883, Mr. Holmes thought that someone from Mr. Christian's home may have stolen some chickens from him. So why was this concern of John Holmes? Look at the map below.
For about a dozen years or so, John and Charles were neighbors and shared a property line. Look at the names in the two properties with the black dot.
The Finch property you see is where the Irongate Medical offices are now.
What are the chances of two such interesting citizens of Glens Falls living next to each other?
Contributed by: Bob Bayle