You may be familiar with the story of Alexander Hamilton, one recently popularized by the musical Hamilton. Alexander Hamilton's father-in-law was Philip Schuyler, a United States senator from New York, who resided in Albany. During the American Revolution, Schuyler worked closely with an ordinary man who became a spy; that man was Moses Harris — who lived, worked, and died in Warren County.

Moses Harris Jr. was born on November 19, 1749 in Goshen, Connecticut to parents Moses Shepherd Harris Sr. and Dorothy (West) Harris. While Moses Harris was still young, the family moved to Westchester, NY. In 1775, Moses enlisted in the New York Militia, and served three one-year tours of duty in upstate New York and Vermont, before returning to Westchester. When he learned about a Danbury, Connecticut raid that took place on April 21st, Harris reenlisted for a fourth time.
On a mission in Lake George, Sergeant Harris stumbled upon a group of Loyalists who had stopped to rest. Quick-witted and not appearing in a discernable uniform, Harris pretended to be a British Loyalist to learn what the men were doing in the area. They were on their way to deliver letters to Albany which contained General John Burgoyne's three-prong strategy to invade New York as well as the British intention to attack Fort Stanwix in Rome, NY.
Posing as a Loyalist, Harris offered his services to bring the letters to Albany. The men accepted and Harris set off. Instead of marching to the Loyalist headquarters, however, he went directly to Senator Philip Schuyler's mansion. Schuyler opened the letters without breaking the seals and learned of Burgoyne's plans. Schuyler re-sealed the letters, and they were delivered to the Loyalists. Schuyler then warned the militia at Fort Stanwix, so they were prepared for the attack. So began Harris's work as a double agent in the Revolutionary War.
Burgoyne invaded New York, but American troops were prepared for battle, and Burgoyne's troops ultimately surrendered. This win was enough for the French to join the war on the side of the Americans. Many consider this the turning point of the Revolutionary War. Harris continued his role as a spy, delivering falsified letters to the Loyalists to conceal plans that George Washington was making.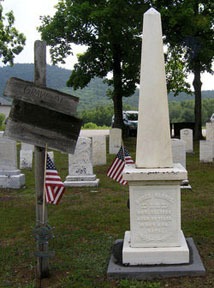 In 1786, after years of service, Harris purchased 2,000 acres of land in Queensbury with money awarded him for his actions as a spy. General Washington told Schuyler that Moses Harris should be "handsomely rewarded for his service," and he was. His tract of land became what is now Harrisena.
Moses Harris maintained a healthy home life. He had eleven children from two wives — Grace and Isabel. Harris conducted some of earliest road surveys in Queensbury and tended his lands, until he died on November 13th, 1838, at the age of 89. He and many of his family are buried in the Harrisena Cemetery on Ridge Road.
Maureen Folk is a descendant of Moses Harris through her maternal grandfather.
Sources:
http://warrenny200.org/towns/queensbury/people-100.php
https://www.geni.com/people/Sgt-Moses-Harris-Jr/6000000002467740257
http://revwarapps.org/s17996.pdf
https://www.mountvernon.org/george-washington/the-revolutionary-war/spying-and-espionage/spy-techniques-of-the-revolutionary-war/
https://www.findagrave.com/memorial/45642389/moses-harris
https://www.lmelliott.com/book_landing_page_historical/hamilton-and-peggy-revolutionary-friendship/supporting-characters-hamilton-and-peggy-revolutionary-friendship