Most of us are probably familiar with the old saying "your home is your castle".  During the late Victorian period, many architects wanted to make your home look like one as well…at least sort of.  From the 1880s to the early 1900s, the architectural style known as Queen Anne swept America.  Although named after Queen Anne who reigned in the 18th century, the designs derive inspiration from even earlier periods.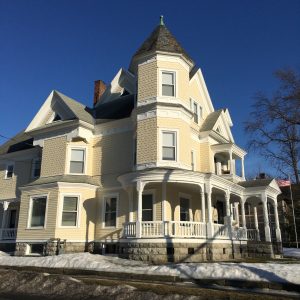 Among the characteristics that define Queen Anne architecture are: asymmetry, numerous gables, large front or wraparound porches, leaded or colored glass windows, overhanging eaves, and of course, the additions of towers or turrets.  In case you were wondering what exactly is the difference between the two, and to be honest I didn't know at first, simply put: A tower is a vertical structure that is taller than it is wide and starts at the ground level.  A turret is a small tower which may or may not start at ground level and projects from the wall or corner of a building.
The sight of these features conjures up thoughts of medieval knights and fortresses.  This makes sense because originally, their sole purpose was to provide an element of defense.  Towers offered an impressive vantage point in any direction, in order to detect enemy movements.  Turrets (or "little towers" in Italian) stood out from either a corner or a wall face in order to enable soldiers a line-of-sight on their enemies while offering protection from hostile fire.  The fact though that they were basically suspended from the building itself, only supported by corbels or braces, meant their size was limited to and dependent on the strength and properties of the construction materials used.
Over time, the militaristic aspect faded and the forms were adopted for decorative effect.  The Queen Anne house is all about opulence, flamboyance, and over-the-top ornamentation.  It was a show of wealth in a uniquely American way.  How better to display your newly acquired social status than to emulate nobility and live in a castle of your own?  Turrets, towers, scrollwork and spindles were all just icing on the cake.
There are many wonderful examples of Queen Anne homes around Glens Falls.  Their locations around the city represent local growth and expansion patterns during the latter 19th century.  Many of these stately homes can be found on main thoroughfares such as Glen, Ridge, Bay, and Warren streets.  You'll also find that a number of the houses are situated on corner lots, where the presence of a turret could enhance the views from within and make the perfect cozy space for reading or a rest.
Some More Examples
(L) Built around the mid 1880's, this house at the corner of Bay and Sanford, was owned by John Lavery Jr.  Lavery worked in his father's grocery store next door at 127 Bay until his father retired, at which point he inherited it and took on a partner.  The bell shaped tower roof with a handle finial is one of two that exist in Glens Falls today, the other at the corner of Bay and Washington.  These two houses are often referred to as the "bell tower" houses.
(R) This Bell tower house at the corner of Bay and Washington was built in the early 1880's on property that had belonged to William E. Spier.  By the late 1890's it was owned by D. R. Long who owned a shoe business in Glens Falls.
(L) Local architect Ephraim B. Potter designed or planned changes to five buildings as part of the Bemis Eye Sanitarium complex.  The former Allen house on the southeast corner of Glen and Union Ave was modified for Dr. E. H. Bemis in 1895 to be used as a boarding house and treatment facility.  This house has an 8-sided, three-storied tower with a pitched, slate roof and a belt course in between the 2nd and 3rd levels.  The massive chimneys and steep gables are features found during the Queen Anne period.
Of the three Queen Anne homes on Grove Avenue with either a tower or turret, this one is unique in that it retains the original "cresting" or iron fence-like decoration at the top of the polygonal roof.
(L) This grand home built for George H. Parks in 1900 sits at the southwest corner of Glen and Grove streets.  The highlight of this hip-roofed structure is the substantial, three-story tower with its bell shaped slate roof.  Other period elements include the leaded glass windows and enormous porch.  By 1903, it is owned by Egbert West and his wife Julia Parks.
(R) Located on Warren St. across from the Hyde, this 1889 Queen Anne has many unique features.  Not only does it have a turret with wooden shingles and a conical roof, but the exterior is an unusual combination of stone and shingles.  There is quite an assortment of windows, including an eyebrow window.  As interesting as the house is, the story that goes with it is equally as intriguing.  It was built for Dr. Charles Foster and his wife Frances.  Unfortunately, Dr. Foster suffered from mental illness as well as addiction.  He reportedly attempted to burn the house down three times and by 1894, he was hospitalized in Montreal.  His wife took in borders after his departure.
(L) Built in 1895, the Armory on Warren St. is the structure which most relates to the original, historic intent of a tower feature.  Since the armory was architecture for the military, its design is more similar to a fortification.  The tower has traditional crenellations along the top edge to allow for cover while firing a weapon, though it has never been used for any such activity.
Jillian Mulder, Chapman Curator